Ross Tweddell, better known as King Ross, was a writer for Whatculture, presenter of WTF Moments of WWE Raw, Smackdown, PPVs and WCPW shows.
WTF Moments
Edit
Ross first appeared with the 'WTF Moments from WWE Raw February 8th'. The next episode of WWE Raw, Ross began to dress like a king and called himself King Ross. He also did the WTF Moments from a WWE PPV. During the WTF Moments, he is renowned for numerous catchphrases. Most notably of these is him screaming "IT'S JOHN O CLOCK MOTHER F*CKERS" whenever JBL makes a cock up, and "THE END IS NIGH" whenever something unexpected happens. Often if something is ridiculous to watch, he quotes the Slipknot song "I push my fingers into my eyes"! As part of his king persona, he refers to the viewers as "loyal subjects" or "dirty, horrible marks" and other various put downs. King Ross was killed by Hobo Joe during an episode of WTF Moments on May 23rd, 2017. Joe has since taken over WTF Moments and is struggling to please the dirty marks.
WTF Moments Intros
Edit
During the intros of WTF Moments, King Ross has done different things for his intros:
Screaming 'KIIIIIIIIIIIIIIIING!'
Intros with Little King Ross
Parodying movie scenes
Parodying wrestling entrances
Screaming "IT'S JOHN O CLOCK MOTHER F*CKERS
Singing "VINCE MCMAHON LIKES BIG SWEATY MEN"
King Ross has commentated alongside Simon Miller and later Adam Blampied for WCPW: Loaded. He and Miller were announced as the commentators during the video 'Adam Pacitti introduces the WCPW Commentary Team'. He commentated WCPW: Loaded Episode 1, 2, 3 and 4. After Episode 4, he said in Tweet that Simon Miller, Adam Blampied and himself would stop with commentating the matches. Although he and Adam Blampied still commentate the WCPW unseen matches. King Ross was also featured on Botchamainia 319 for correcting Simon's botching of El Ligero's name repeatedly.
Merchandise
Edit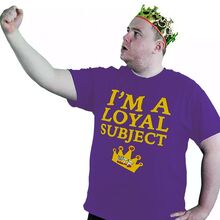 King Ross has his own merchandise: Shirts with 'I'm A Loyal Subject' on it. The shirts are available in the colours black and purple. On Sep, 13, 2016 Whatculture released the "John o'Clock" t-shirt, coined from Ross catchphrase "It's John o'Clock Motherf**kers!!"
Appearances
Edit